Much is sought for strategies to sell more on the Mercado Libre.
In this content we brought two of them:
Both will improve your sales on MercadoLibre and attract more customers, but which one is better?
In the next lines, we will expose the strategies where you can choose one or even combine them so that your store sells more on Mercado Livre.
Discounts on the Mercado Libre
One of the ways to sell more for sure is by lowering the price.
But do we always need to give up our margin to be able to sell in large quantities?
Looking from the perspective of catalog products, the one with the best price will be the one that will win the "Buy Box", making your store sell more at Mercado Livre.
Likewise, when Mercado Livre suggests a discount for your product so that there are sales, the ideal is to accept it.
After all, the marketplace itself helps the seller with extra value so that the ads have the best prices and gain greater prominence as a result.
Sometimes they even use your product ad in paid Google Shopping campaigns and on social networks to attract more traffic to Mercado Livre.
Therefore, accepting and applying discounts to your ads makes you stand out more.
At the same time, your ad is among the first results at the top of the search page and still earns a discount badge to stand out from other advertisers.
How does the shared discount on Mercado Livre work?
If you opt for shared discount campaigns, it is very easy to set up.
Just access within the Ads section, the Promotions Center tab.
There you will see your ads eligible to participate in promotions.
It is worth mentioning that most of your catalog ads on Mercado Livre are eligible to carry out promotions with shared discounts.
So, if you really want to participate, you just have to accept the promotion, be it 5% OFF, 10% OFF, among others, and click on the blue "Participate" button.
However, do not forget to check the duration of the promotion, final price and how much will be paid by Mercado Livre.
It's time to let our artificial intelligence take care of your store at Mercado Livre
Offers with multiple products at once
Through the promotions center it is also possible to participate in lightning offers, offers of the day, among other campaigns such as black friday, christmas, consumer day, etc.
To do this, just send an excel spreadsheet with all your products and the percentage of discount you will give on each of your ads.
Here is a list of 9 simple steps to make registration and your life easier:
Go to the Ads tab;
Within the ads tab, access: Promotions Center;
Here you will see one or several cards with promotions;
Select the promotion card you want;
Click on the option 'Participate by Excel';
Download the spreadsheet template with the suggested discounts for eligible products in the 'Download your Excel' option;
Select the categories of your products;
Review the products and minimum discounts for each and attach the spreadsheet;
Return to Central, choose the promotion card, select 'Participate by Excel' to submit your spreadsheet and that's it!
Without leaving your account, you can participate in the offers of the day, lightning, by quantity, shared and the most important commercial campaigns.
And discounts are created on the spot!
With the confirmation, Mercado Livre starts programming the discounts.
Offers by quantity
This type of strategy to sell more consists of offering discounts on the purchase of two or more units of the same product.
This helps you sell more units available in your stock and give your store more visibility within Mercado Livre.
Since your ad will appear in the first search results with an additional prominence.
Not to mention that Mercado Livre adds an extra discount on its behalf to make you sell more!
You can also find this type of offer in the "Promotions Center" tab.
And as soon as you open this tab, it will be visible which ones are available, such as:
Take 4 pay 3;
50% discount on the 2nd unit;
20% discount on the purchase of 3 units;
Among others.
This suggested discount is available on your ad list within the Mercado Livre promotions center.
When choosing to offer, simply click on 'Participate'.
Pay attention to the duration, the final price per unit, what the product is, the discount you will offer and the amount that will be paid by Mercado Livre.
Remember that it is possible to add several products at the same time to the offer of the day.
For this, we leave a step by step to simplify your life:
Access the Promotions Center.
Choose the quantity offer card to find out which products are participating.
Select all products in the bar or check one by one in the list.
Click on 'Participate'.
If everything is ok, confirm the operation to program your products in the promotion.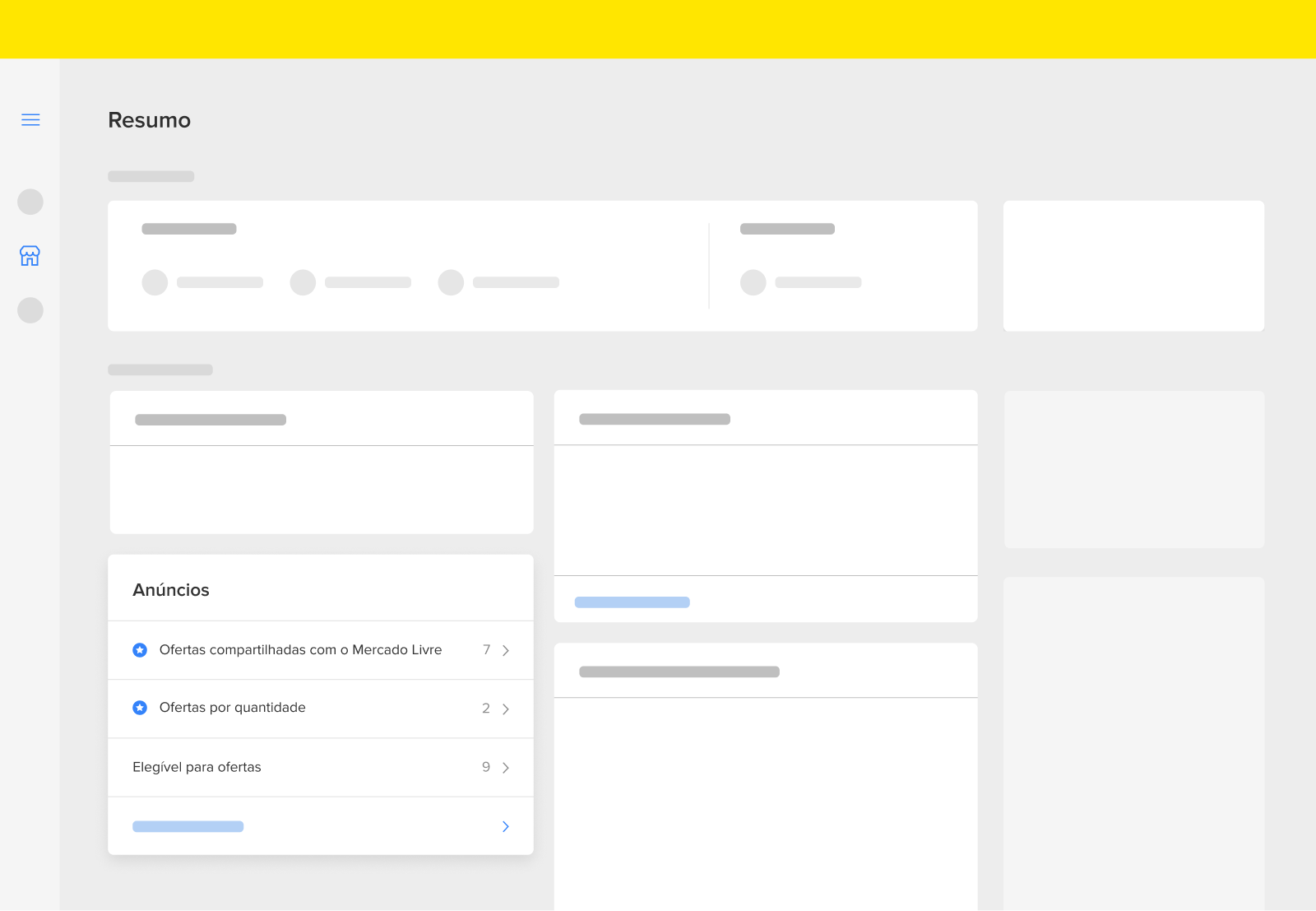 Extra Tip to Sell More in the Mercado Libre
First, we know that Mercado Livre already invests in usability and optimization techniques.
But you can also boost your product pages there to rank better.
While that will make your store sell more with some SEO practices that are also linked to good SAC practices!
In this sense, an excellent starting point is to answer customer questions.
After all, SAC at Mercado Livre impacts your store's reputation.
Therefore, it is very important to provide a quick and attentive service.
Above all, one of the keys to a better shopping experience as well.
Mercado Livre determines the rules so that the SAC is done quickly and that customers do not remain without answers.
With an agile Customer Service, you demonstrate to Mercado Livre that you care about good service, and this helps your store to continue improving its search positioning.
So tell me something...
Since speeding up service is an excellent strategy for your store to sell more on Mercado Livre, what actions do you and your SAC team take to do this in the best possible way?
Do you do service on multiple screens?
Do you answer all calls manually?
See tickets from different themes/topics all together?
These are some of the pains that a Mercado Livre Platinum partner platform, like GoBots, can solve!
In addition to speeding up the service by up to 7x, the SAC team achieves up to 80% more productivity in the routine.
Now you want to know how we centralized the Mercado Libre SAC?
Request a free demo by clicking here and discover all our features (automatic messages, standard replies, dashboard, AI, and more).
Finally, to receive this and other types of content first hand, be sure to follow us on social media: