This month we brought a lot of news to make your service even more optimized in marketplaces and centralized in one place.
So get ready, we'll list them one by one below so you can stay up to date with everything 🙂
01- Start a conversation with your customer
You know that customer who forgot to send the size, color, type, model of the product?
Because, using the Gobots dashboard it is possible to start a conversation with your buyer from a specific reason.
Take advantage of this functionality to strengthen the relationship with your buyer.
*chat will be blocked until your buyer responds.
Maybe you don't know, but it's always good to remember that when the order status is cancelled, the chat is blocked, both on our panel and on Mercado Livre.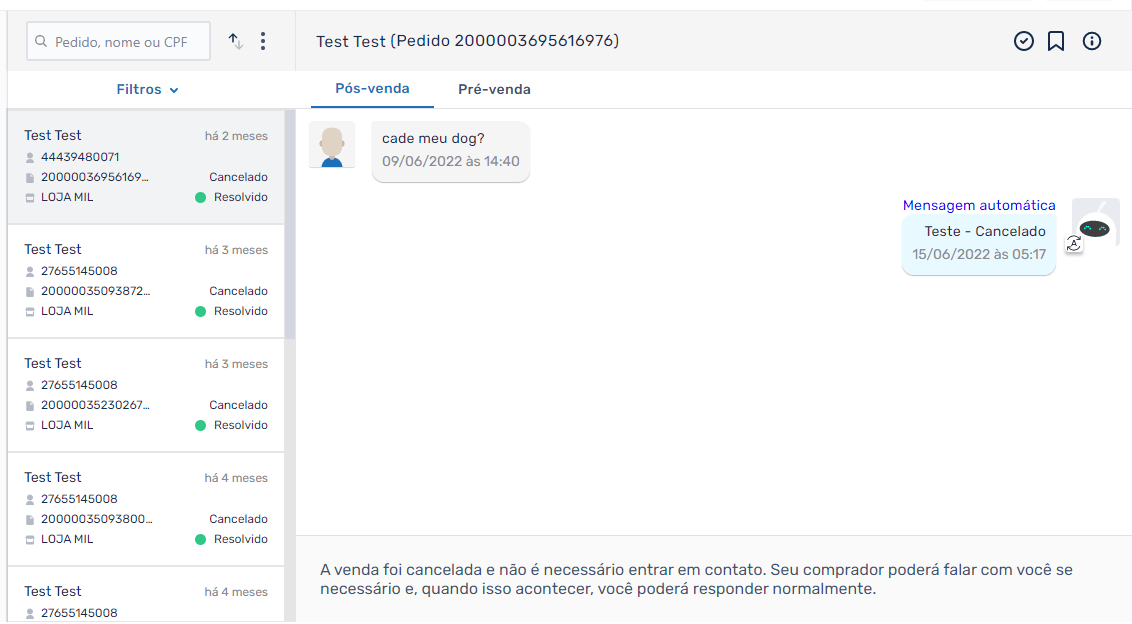 02- The more suggestions, the more assertiveness in the answers
You can now track the status of submitted suggestions within our dashboard.
In this way, our artificial intelligence is even more assertive and answers your buyers' questions more quickly.
See how to use the functionality in the video below:
To view the entire history of submitted revised suggestions, simply click on Suggestions and Revisions.
And remember that the more assertive the answers given by AI, the more value it generates for your business.
03- Boletos and invoices
To make our customers' day-to-day even easier, now within our panel there is the option of accessing slips and invoices!
To access it is very simple, just go to the Settings menu by clicking on the username in the upper right corner of your screen.
Then select the Billing tab and then View Invoice.
With this, you will be directed to a new screen and by clicking on "invoices" you will have access to all your payment history with us.
Remembering that your current monthly fee will be available from the 5th business day of each month.
Isn't that too much?!
Oh! And remembering that this option is only enabled for users with full access and available only in Brazil for now.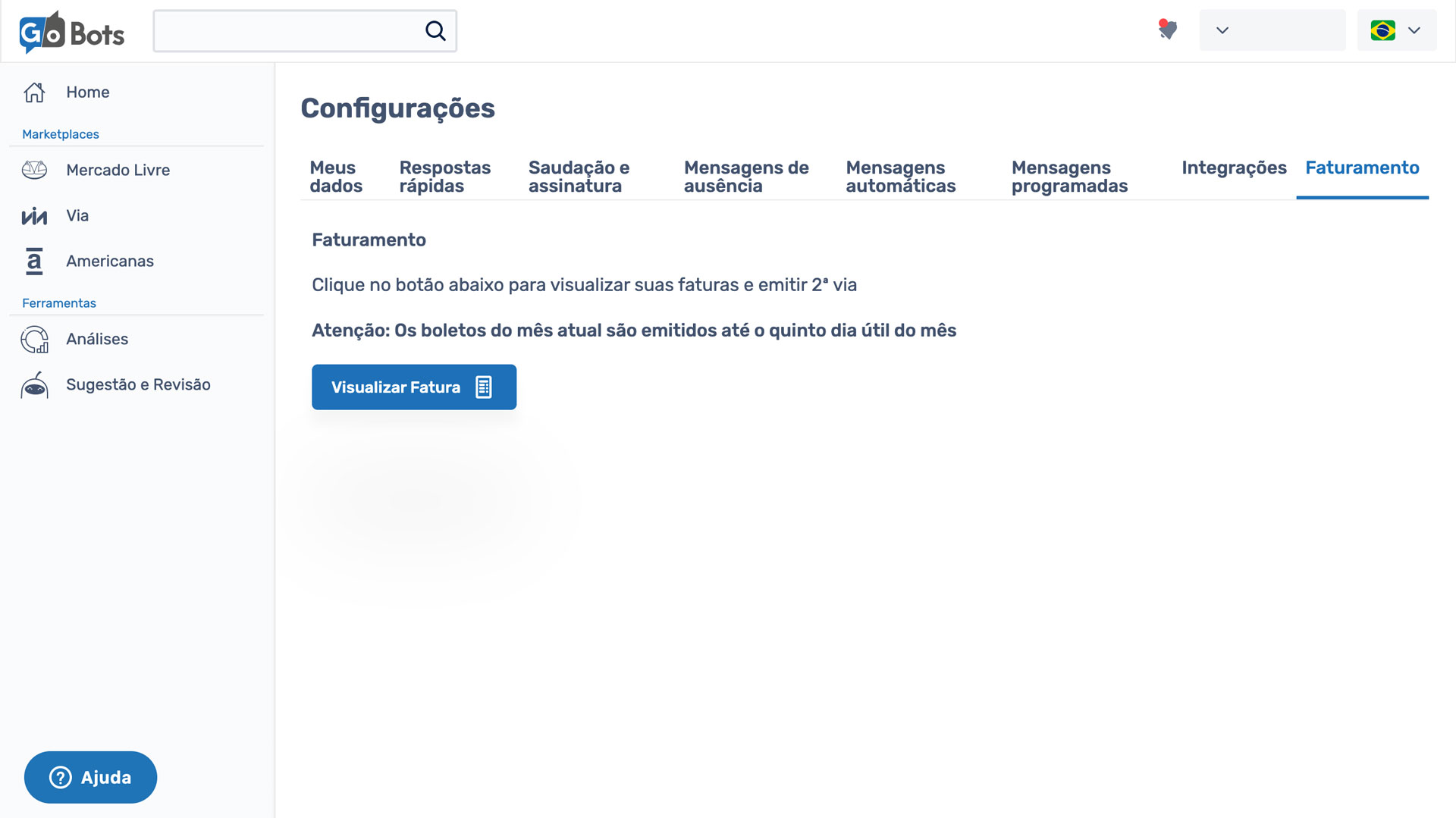 American Panel
(only available in Brazil)

01- Home for customers who serve Americanas Marketplaces
It's now even easier to view your store's general information on our Dashboard home. That way, you can get an overview of what is happening within your business on Americanas Marketplace.

02- Add accounts linked to Americanas
Did you know that there is now the possibility to link more than one Americanas Marketplace account on the GoBots panel?
Just go to settings > integrations > add Americanas account and fill in your data.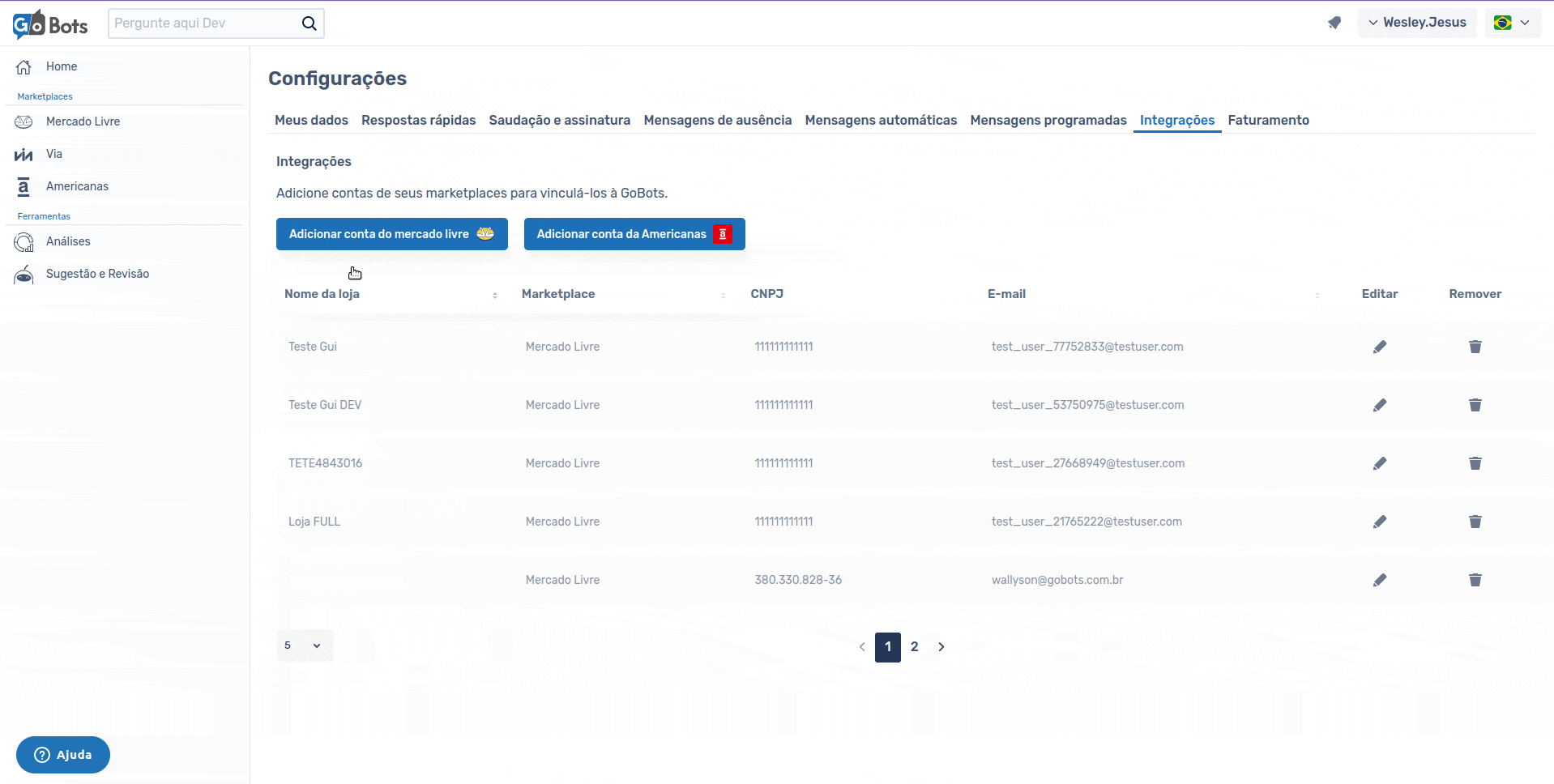 03- New smart filter (Urgent calls)
Don't forget to offer extra attention to those customers who have an urgent matter pending!
It is now possible to perform a smart filter to view all urgent calls.

02- Filter by period to your questions
Have you ever needed to filter a specific period of questions in your ads or in your sales to check some information? It is now possible to perform filters by period in both the pre-sales and post-sales of the Americanas Module.

03- Act on the SAC SLA
Our dashboard makes it clear how much time is left to win that SAC and gives you a clear view of the orders that need your action.